IKANO CENTRES: Creating Safe Meeting Places with IKEA
IKANO CENTRES: Creating Safe Meeting Places with IKEA
IKANO CENTRES: Creating Safe Meeting Places with IKEA
IKANO CENTRES: Creating Safe Meeting Places with IKEA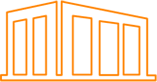 4,617,652.99 sq ft
(428,994 sq m)
Gross Leasable Area (GLA).
That's over 85 football fields!

Successful partnerships
with 1,421 Tenants.

100 million joyful visits to shopping centres and IKEA stores.
That's 10 x the population of Sweden!

SGD 167 million
sales turnover in 2019.
*equal to EUR 110 million.
5 Meeting Places Anchored
by IKEA
Ikano Centres is a part of Ikano Retail and we create retail destinations together with our IKEA stores. We go beyond transactional shopping to create meeting places where our communities can come together to connect and enjoy fantastic experiences. In addition to creating a safe and great day out for friends and families, we also provide good business opportunities for our partners. Worldwide, IKEA has proven to bring in more than 5 million visitors a year, and extends the shopping centres' catchment up to 90 minutes. By partnering with Ikano Centres, you'll enjoy the synergies of a much loved global retail brand.
Talk to us and open the door to incredible possibilities for your business.